Apli-SKZZ
Module for specialists dispensary and ambulance
Patient/insurance person visits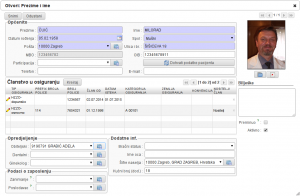 If a patient has valid insurance coverage, you don't need to type her or his data into the program. It can be retrieved, inserted, and updated over the InsuranceInfo web service. We send a person's Social Insurance Number or insurance policy number to web service, and after a few seconds, you get to name, family name, gender, date of birth, person ID, address, base, and additional insurance policy numbers with validity dates and similar. In order to use this functionality, you need the insurance company's smart card and smart-card reader. On the other hand, you can not use this functionality for patients who wish to remain anonymous.
Cezih
Apli-SKZZ is a part of our software package Apli-Medical and it is certified to communicate to Cezih (The central health informational system in Croatia), so it manages the input and output of electronic documents. The software asks Cezih for unused patient referrals, and if found any (for a specific activity) makes a reservation and takes over that referral. That way, besides the patient's data, the program automatically updates visit data with the primary healthcare provider's referral.
Electronic medical record
The software records every patient's visit to a dispensary, polyclinic, or ambulance in the field, and all events go to the patient's internal electronic medical record (EMR). EMR chronologically shows visits, medical history, statuses, findings, procedures, therapy, referrals… Easy searching of patient history data is ensured independently of which form fields those data are typed in (history, status, findings…)
Optionally, every visit is accompanied by a work order with bar-code identification. Because of medical recommendations, the software has an up-to-date active "List of medicaments" with guidelines, indications, supply defects, and eventually URL link to the domestic "Drug administration agency's" medicament information. If input documents come in digital form, they will be integrated into the existing EMR as such. After the provider writes "Specialist finding" and validates it, the finding will be returned to the referral's sender in a short period of time.
Medical events are recorded usually through a selection of pre-defined norms that triggers a set of procedures and materials so that there is no forgotten or overseen data entry in the patient care process. This way, customers' invoices and complete administration (participation, cash register statement, and similar) are unconditionally created in the background.
Generated invoices are automatically placed in our Apli bookkeeping OpenERP module. If you have some other General Ledger or Journal entry database, our software has export functionality (periodical file transfer).
Reports
Financial parameters of procedures/materials shown both in screen or on paper (for all kind of different conditions) list of:
Patients
Diagnoses
Procedures and materials
Insurance categories
Activities
Physician teams
Ordinarii
Time and personnel normative
Places
Branch office/departments
Assimilable
E-signature
Specialists who obtain smart-card can use them to digitally sing their findings. See finding image.